Post by ninjagreg on Jan 12, 2021 2:17:03 GMT
Compatibility Patch for AGOT More Bloodlines-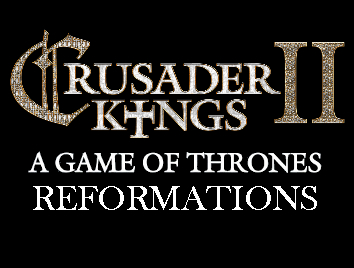 Hello everyone, this is my first CK2 mod, essentially was my attempt to make the College of Cardinals Papal Succession mechanic a possible leadership doctrine for reformation.
As I finished that feature, I gradually kept adding on to the mod, adding unique doctrines/natures to at least three religions. I'm hoping to add more doctrines in the future and also will try to get the ancestor veneration feature to work.
If you have any suggestions please let me know.


Major Features:


Papal Succession (College of Cardinals) can be selected as a leadership when reforming a religion.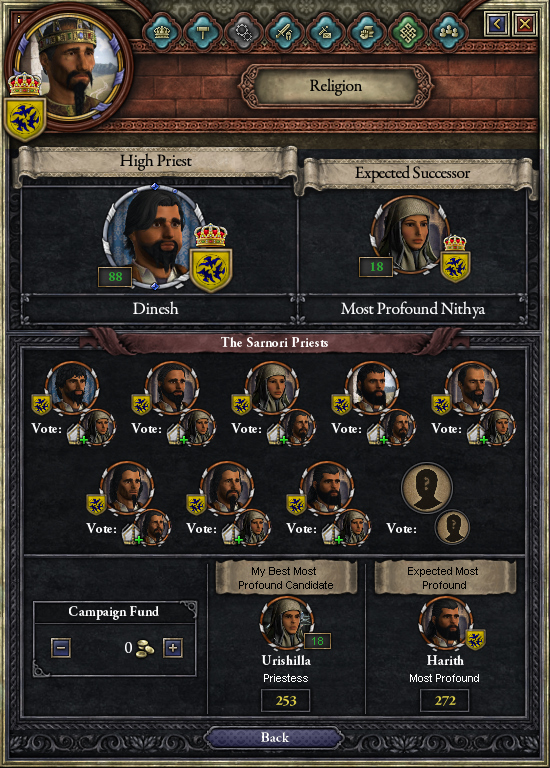 Piety Based Reformation - You now only need one holy site, but you require 2500 piety. (Helps with balancing for kingdoms like Sarnor who start off with all five holysites.


Changed all the Reformation Doctrine art to be more AGOT themed (See at bottom) and added black shading along the image borders which was left out from the main AGOT mod.

Buffed the Sea Bound doctrine to give an opinion boost to all other Sea related religions. (Not sure if this is working properly)


Removed Sea Bound requirement for Daring doctrine.


Fixed typos in some reformation event descriptions:
The religion "The Harpy" has been renamed to "Harpy" because in events it would read as "the The Harpy" which was stupid.
Fixed line of code for the Nath religion which had an extra space that caused the entire line of code to be written out in the GUI instead of just "Nath".
Custom Doctrines/Natures:
Septon Hierarchy (Papal Succession) - In the mod, the faith of The Seven religion uses the CK2 Catholic College of Cardinals to elect a religious leader. This is now made an option when reforming the religion.


Gods of Hyrkoon - Essentially the defensive doctrine with the inclusion of ritual sacrifice. Not much is known of their religion in the books except for that they sacrificed thousands of Jogos Nhai to their "dark" gods, so I figured this would be a suitable combo.


Sarnori United - A combination of Meritocracy, Stability, and a no raised levy penalty from vassals of your religion. Sarnor usually get's destroyed by Dothraki hoards, lore wise it's because of all the infighting, but if a pious leader is able to reform the religion they get access to realm stabilizing buffs.


Legionary Traditions
- A combination of Unrelenting, Stability, and the ability to construct the legionary barracks of the old Ghiscari Empire. Was originally culture locked, but now anyone following the new reformed religion can construct them within the Ghiscari region.
Installation for Direct Download:
Place the zip file in your mod folder and extract there. The files extracted will be the AGOT Reformation mod folder and the ".mod" file with the same name.