Post by Almaron on Jun 26, 2019 8:36:10 GMT
Remember this old thing?
forum.paradoxplaza.com/forum/index.php?threads/submod-revised-borders.906865/
www.tapatalk.com/groups/citadel/submod-awoiaf-adjusted-borders-t10552.html
Well, in the aftermath of the final episode of GOT, I decided I wanted to resurrect it, but to also start afresh in some areas and include some new ideas that I'd come up with while working on other projects.
FEATURES INCLUDE:
*Redrawn map of Westeros with borders designed to match the maps shown in 'The World of Ice and Fire' - with some adjustments made to suit the base mod - while also be suitable for CKII's 'ducal drifting' and also reflect historic borders of pre-Seven Kingdoms entities, which, somewhere down the line, I hope to include for the Century of Blood start date or even earlier.
*Additional wasteland territories added to Westeros to allow impassable regions to be represented without them 'disfiguring' the map.
*Revised vassal setup; almost all houses listed as "principal" ones in source material have been given ducal titles to reflect their importance - in areas where multiple principal houses occupy a single duchy, titular titles have been created to avoid de jure wars breaking out. Similarly, Dragonstone and Summerhall have been given kingdom-tier titles.
*Updated river/terrain/topology maps, featuring a few extra rivers and a redrawn version of 'The Wall' to match the depiction in 'The Lands of Ice and Fire'.
*De Jure Empires extended to cover entire game map - necessitating the creation of a few space-filling empires as temporary fixes.
SCREENSHOTS: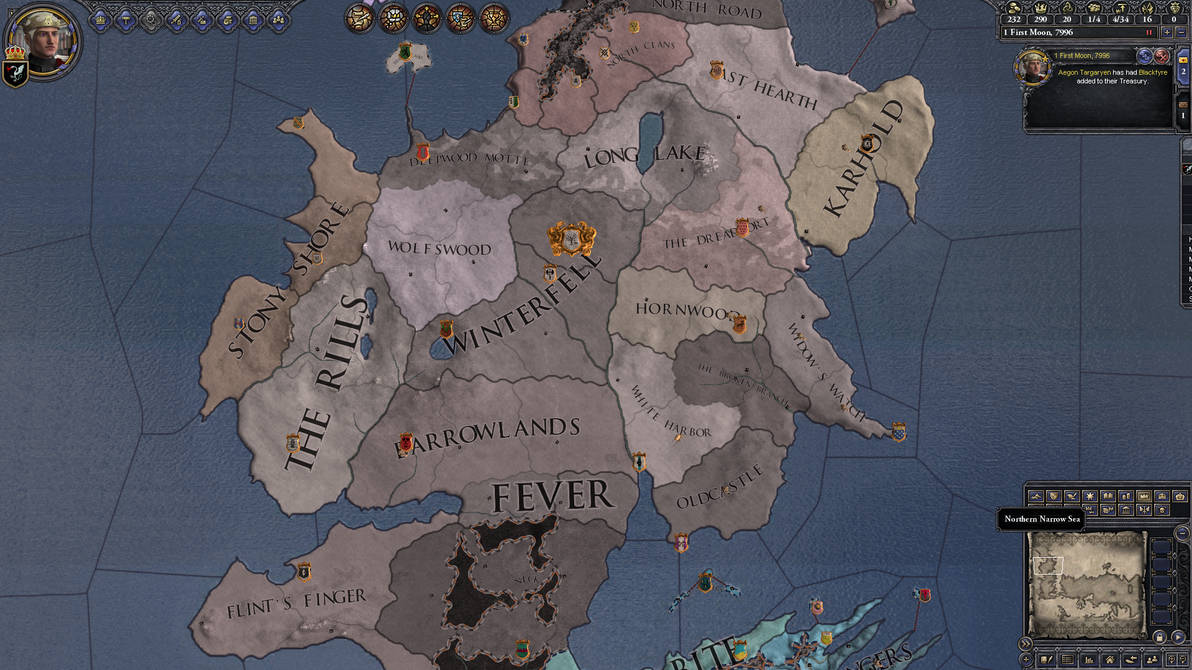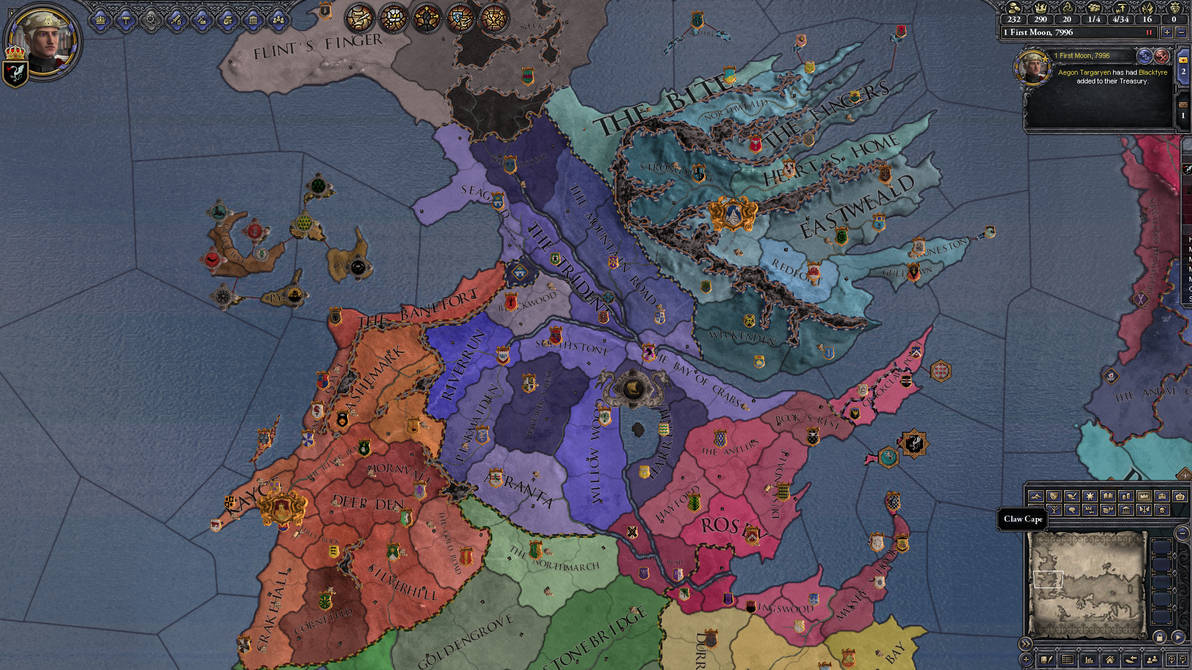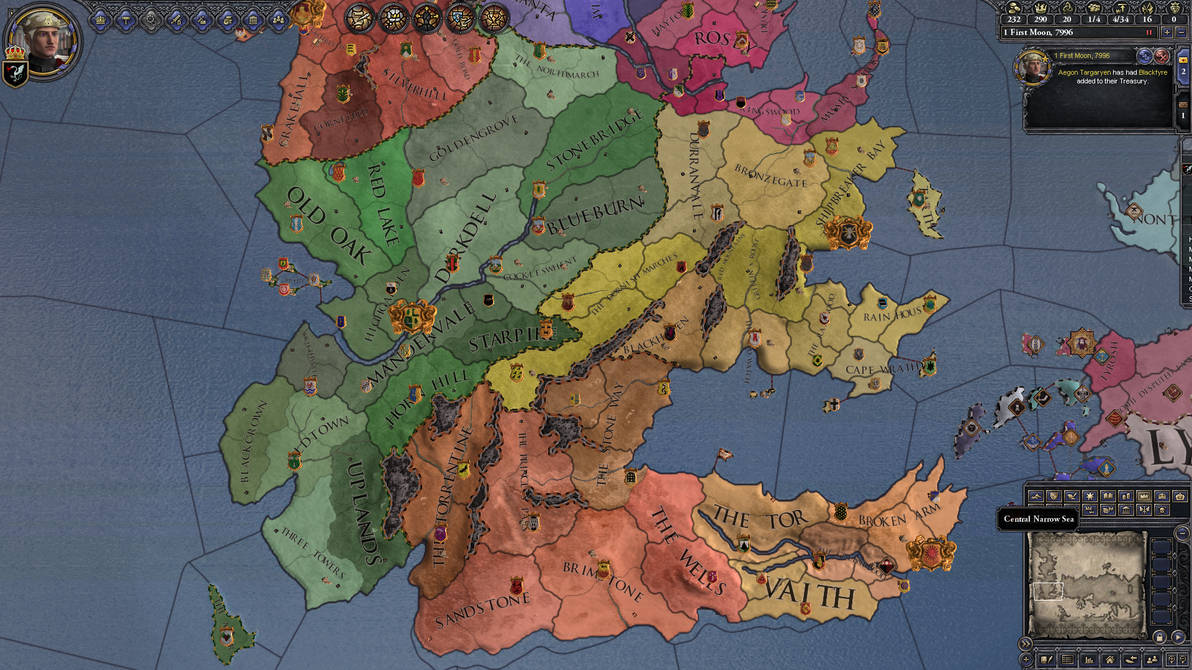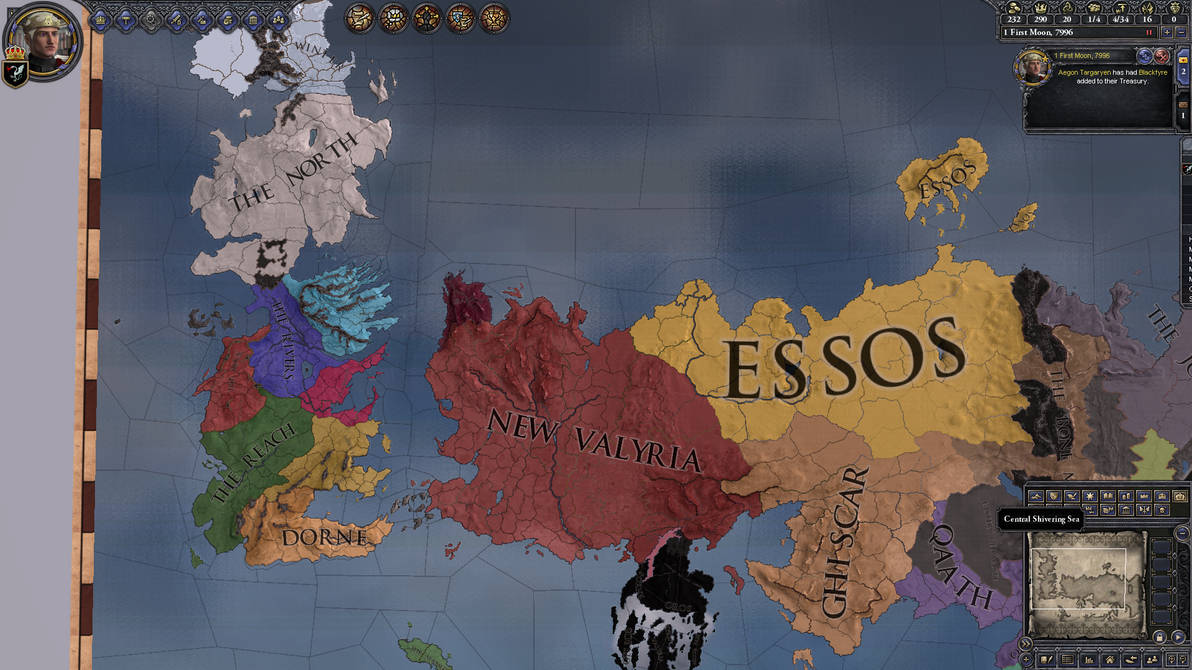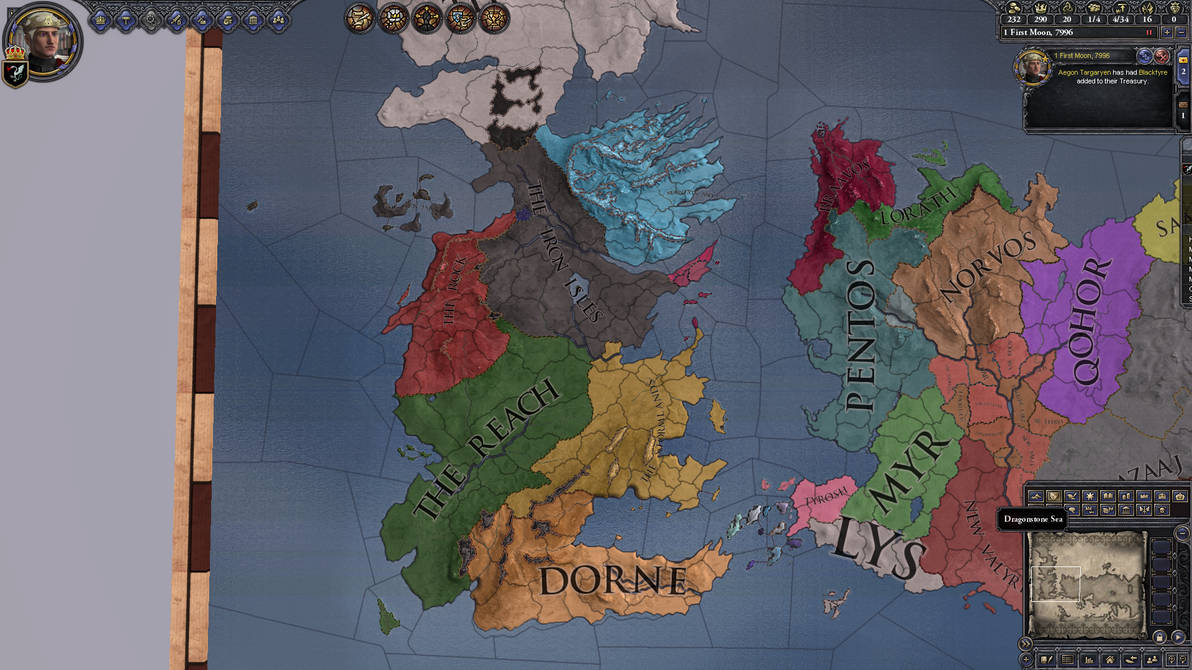 DOWNLOAD HERE:
www.dropbox.com/sh/476ey4p6uknmcye/AADWQkyRp8lsj9mBlEN-w-Rma?dl=0
Compatibility patch for AGOT - More Bloodlines:
www.dropbox.com/sh/4mneyykh2teohtd/AADrWKmQ_d1XCmk2huq5IV4Na?dl=0
Compatibility patch for AGOT Trade Routes Revised:
agotcitadel.boards.net/thread/368/sub-mod-trade-routes-revised?page=5&scrollTo=16089
NOTES ON CERTAIN ADJUSTMENTS:
*Crownlands culture present from starting date, but with the new name 'Waterman', representing the people living along the coastline who more often than not tried to break free of the authority of the Riverlands and Stormlands.
*Atranta shifted to southwestern Riverlands, based on text in 'Fire and Blood' - "From [Harrenhal] he and his retinue moved on to Riverrun, Acorn Hill, Pinkmaiden, Atranta and Stoney Sept".
*Oxcross, Nunn's Deep and Pendric Hills shifted to better suit description of Robb's campaign in the Westerlands - Robb sneaks past the Golden Tooth and surprises the Westerman army at Oxcross (three day's travel from Casterly Rock), then after this, his army splits; Robb continues on to Ashemark and the Crag, the Glovers and Karstarks raid 'the coast' (by process of elimination, the northern coast of the Westerlands) and the Umbers capture gold mines at Nunn's Deep, Castamere and the Pendric Hills (suggesting some proximity).
*Multiple openings have been added in wasteland territories, based on maps in 'The World of Ice and Fire' which show roads crossing these areas.
*Northmarch region shifted to the northernmost part of the Reach, based on text in 'The Sworn Sword' - Dunk notes that Summerhall is south of Standfast - and the fact that no other canonical locations have so far been confirmed for this region.
Hope you enjoy it! Open to feedback - especially since there's bound to be some painfully obvious mistake I'll have overlooked in making this - so let me know if there's something I should fix!