Post by rufff1 on Jan 11, 2019 16:10:34 GMT
V 1.8 is brilliant and the devs have done an amazing job on it, but the number of historical bloodlines is rather limited when all is said and done. I get that the devs did this to limit bloat for bloodlines and to prevent certain houses from being OP, but it is a little lore breaking when murdering a few dozen people in a lifetime gets you the same recognition as say the 8,000 year rule of the Starks, Lannisters or Durrandons.
So I made this mod which currently adds over 100 new bloodlines, some of these are secondary bloodlines for the main houses – yes this does mean that say the Starks and Gardeners start off with 4 bloodlines, but the thing is they aren't a normal house, they are the embodiment of an entire region – their prestige should match. The benefits to the bloodline are now more than just an opinion and prestige boost, giving a range of benefits from morale boosts, to diplomacy boosts. I have tried to make sure that these bloodline benefits give an edge but don't break the balance.
I have also left the existing bloodlines claims intact but removed all other bonuses, to make the vanilla bloodlines essentially claims bloodlines and my new bloodlines effect bloodlines.
I've implemented system that gives certain bloodlines events that gain certain traits associated with their house (so certain houses tend towards bravery, others will get strong, others will get mystic and sadistic bloodlines - Boltons, Maegor, Gregor clegane - get torturer etc), I've added some new animal companions as part of the trait gain system, so if you're a descendant of the Marsh Kings you could get your very own Lizard Lion! Other animal gains I will be introducing are Bears for the Mormonts, Crows for the Blackwoods (and the subsidiary Black Aly and Bloodraven Bloodlines), Lions for the Baneforts, Cranes for house Crane, Vultures for the Blackmonts, wolves and direwolves for the Starks. Trait icons are below. 😊 For the trait gain system some bloodlines will fire automatically once a year to give all the bloodline bearers the trait - now all Mormonts, Crakehalls, Umbers get strong, all Umbers get tall, and all courtesans are fair, I might tweak this. For the other traits they are random and so you can't count on the event firing (although there are things you can do to help - if you want to activate your skinchanging powers become a zealous old gods worshipping mystic for example, if you want to become lustful be a hedonist etc)
Compatibility – probably anything that doesn't change the history files, I'll make a compatibility patch for Personal Arms Submod asap and maybe other mods if its clashing and there's an appetite
Requirements – Holy Fury
DOWNLOAD LINK: www.dropbox.com/s/q5748poueq4lnc7/AGOT%20More%20Bloodlines%20Submod%20-%20Extract%20to%20mod%20folder.7z?dl=0

Congenital Overhaul compatibility patch now done: www.dropbox.com/s/inlsqkgrzmr2n2v/AGOT%20Congenital%20Overhaul%20Compatability%20Patch%20%28Overwrite%20CO%20%26%20MB%29.7z?dl=0

extract to mods folder and overwrite files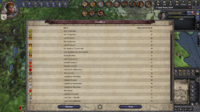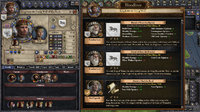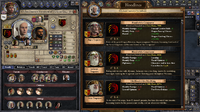 Permisions: Ask me before using anything in this mod - although if the devs want to use the new skinchanging animals for the main mod that's totally fine
Changelog:
v1.2
-Trait gain system added (massive thanks to
kappa
and
ogarrr
for pointing out I hadn't made an on_action trigger)
v1.1
-Added a few new bloodlines in for historical figures, Renly Piper, Glovers, Oberyn, Tywin, Craghas Crabfeeder etc.
-Added new characters in the history files to act as legendary founders - Ryder Kings, Glover Kings, Darklyn Kings, Blackwood Kings, Umber Kings to name a few, also added the 16 sons of the Grey King to make all major Ironborn houses descend from him.
-Made leading Ghiscari families descend from Grazdhan the Great, Hyrkooni from Hyrkoon and Saarnori from Huzhor Amai
-Given Franklyn Flowers a cadet "Brown Apple Fossoway" Branch
-Made the Reeds and a couple of Crannogmen houses related to the Marsh Kings for their bloodline (I gave the Marsh Kings the dynasty name Cailin because well it was their seat after all)
-Added in the traits for lions, cats, lizard lions, vultures, goats, and cranes
-Cats and goats can be gained through traditional means
-Made several bloodlines that are gained by winning a war, Jon, fAegon, and Bobby B all get their bloodlines through winning their war, if you win the War for the Dawn of become Nights King you also get a bloodline
-If you reforge the Kingdom of the Andals you get a bloodline (kingdom of the rhoynar bloodline is proving tricky)
-Fixed a few errors (such as Houses Yronwood and Fowler having a 50% morale defense not 5% - thanks
kappa
for spotting it)
-The trait gain system is still giving me grief, I can trigger the events through the console to work as intended but they don't work on their own, so it won't work in the update though there is code for it, I'll keep trying to make it work and if anyone can lend a hand I'd be supper grateful
Some potential questions

Don't certain bloodlines cancel each other out like Blood of the Concilliator giving a vassal opinion boost and Blood of the Mad King giving a Vassal opinion penalty?

Yes that's the point, Aerys undid all the goodwill Jahaerys had built up and then some.

Why are Dany and Nymeria's bloodlines patrilineal?

Yeah that one annoys me too. Basically I don't want it set to all descendants because then after 100 years everyone would have it, but also I want it to stick to the dynasty not be lost by male descendants but kicking around some minor baronetcy who are direct female descendants after 200 years, it gets transmitted if the marriage is matrilineal so basically with enhanced marriage AI it is matrilineal of you think about it, ultimately I was trying to get it to stick to the House.

Will x get a bloodline?

Convince me that they should.

Why does x have a bloodline?

Because I think they should have one.

The new bloodline effects make my attempts as House Codd to displace House Targaryen as rulers on the Iron Throne within a single lifetime really difficult!

Well yes. That should be basically impossible lets face it.

Can you make a rule to limit it to a middle ground with all the new bloodlines for houses that didn't have one getting one but with less bloodline bloat?

Maybe, I'd like to but I don't really get how the rule mechanism works.

Why does x bloodline have x effect?

Because it ties in to the lore, yes some are a bit of a stretch, ie House Tarly getting an opinion boost with Hunters, but its quite small and it's a nice reflection of the lore

Why does so and so have a bloodline we aren't actually sure they are descended from? ie House Reed having the Blood of the Marsh King or the Houses of the Shield Islands being descended from Owen Oakenshield?

Yes we don't know for sure they are, but its pretty likely, until its contradicted I'm leaving it in to make the world feel lived in.

Can I gain the new animal companions without the bloodline through the normal skinchanging chain?

No, if someone wants to sort the code for the event I'll put in the localisation and add it but rn its not one of my priorities.

Why do certain regions like the Reach, the North, the Vale have loads of bloodlines, whereas the Stormlands has very few?

Blame GRRM for writing a really bland entry for the Stormlands in WOIAF tbh.

Why are you making the Baneforts and Blackmonts skinchangers?

Because the last Banefort king possessed lions to kill 3 Lannister princes and the last Blackmont King could transform into a giant black vulture, both of those sound like skinchanging

I spent 250 years assimilating every bloodline into this mod through matrilineal marriage and now all the fun has gone out of it as my character has over 100 martial, intrigue, diplomacy, and stewardship at birth?

Maybe you shouldn't have done that.

Why is Bael the Bard matrilineally married to the daughter of the Lord of Winterfell?
If not she won't pass on the Stark bloodlines she has


Here is a list of all the bloodlines I have introduced currently

greenhand;Blood of Garth Greenhand;;;;;;;;;;;;;x

garth_the_gardener;Blood of Garth the Gardener;;;;;;;;;;;;;x

garth_goldenhand;Blood of Garth Goldenhand;;;;;;;;;;;;;x

uthor_the_hightower;Blood of Uthor of the Hightower;;;;;;;;;;;;;x

leo_longthorn;Blood of Leo Longthorn;;;;;;;;;;;;;x

alester_tyrell;Blood of Alester Tyrell;;;;;;;;;;;;;x

florys_the_fox;Blood of Florys the Fox;;;;;;;;;;;;;x

john_the_oak;Blood of John the Oak;;;;;;;;;;;;;x

gilbert_of_the_vines;Blood of Gilbert of the Vines;;;;;;;;;;;;;x

urrigon_hightower;Blood of Urrigon Hightower;;;;;;;;;;;;;x

foss_the_archer;Blood of Foss the Archer;;;;;;;;;;;;;x

owen_oakenshield;Blood of Owen Oakenshield;;;;;;;;;;;;;x

harlon_the_hunter_and_hendon_of_the_horn;Blood of the Hunter and the Horn;;;;;;;;;;;;;x

bors_the_breaker;Blood of Bors the Breaker;;;;;;;;;;;;;x

rose_of_red_lake;Blood of Rose of Red Lake;;;;;;;;;;;;;x

rowan_gold_tree;Blood of Rowan Gold-Tree;;;;;;;;;;;;;x

elwyn_the_ever_sweet;Blood of Elwyn the Ever Sweet;;;;;;;;;;;;;x

lann_the_clever;Blood of Lann the Clever;;;;;;;;;;;;;x

gerold_the_great;Blood of Gerold the Great;;;;;;;;;;;;;x

crake_the_boarkiller;Blood of Crake the Boarkiller;;;;;;;;;;;;;x

mountain_that_rides;Vile Blood of the Mountain that Rides;;;;;;;;;;;;;x

the_red_lion;Blood of the Red Lion;;;;;;;;;;;;;x

the_hooded_man;Blood of the Hooded Man;;;;;;;;;;;;;x

herrock_the_whoreson;Blood of Herrock the Whoreson;;;;;;;;;;;;;x

the_crag;Blood of the Crag;;;;;;;;;;;;;x

the_blind_bowman;Blood of the Blind Bowman;;;;;;;;;;;;;x

farman;Blood of Fair Isle;;;;;;;;;;;;;x

aubrey_crakehall;Blood of Aubrey Crakehall;;;;;;;;;;;;;x

nymeria;Blood of Nymeria;;;;;;;;;;;;;x

meria;Blood of Meria the Yellow Toad;;;;;;;;;;;;;x

yronwood;Blood of the Bloodroyal;;;;;;;;;;;;;x

fowler;Fowler Blood;;;;;;;;;;;;;x

samwell_dayne;Blood of the Starfire;;;;;;;;;;;;;x

the_wyl;Wyl Blood;;;;;;;;;;;;;x

benedict_blackmont;Blood of Benedict Blackmont;;;;;;;;;;;;;x

manwoody;Manwoody Blood;;;;;;;;;;;;;x

qorgyle;Qorgyle Blood;;;;;;;;;;;;;x

uller;Blood of the Dragonslaying Ullers;;;;;;;;;;;;;x

uller_a;Uller Blood;;;;;;;;;;;;;x

aegon_the_conqueror;Blood of the Conqueror;;;;;;;;;;;;;x

the_conciliator;Blood of the Conciliator and the Good Queen;;;;;;;;;;;;;x

daemon_blackfyre;Blood of the Daemon;;;;;;;;;;;;;x

mad_king;Vile Blood of the Mad King;;;;;;;;;;;;;x

the_sea_snake;Blood of Corlys the Sea Snake;;;;;;;;;;;;;x

robert_baratheon;Blood of King Robert Baratheon;;;;;;;;;;;;;x

the_shadow_king;Blood of the Shadow Kings;;;;;;;;;;;;;x

bloodraven;Blood of Lord Bloodraven;;;;;;;;;;;;;x

bittersteel;Blood of Lord Bittersteel;;;;;;;;;;;;;x

seastar;Blood of the Star of the Sea;;;;;;;;;;;;;x

maegor;Blood of Maegor the Cruel;;;;;;;;;;;;;x

mother_of_dragons;Blood of the Mother of Dragons;;;;;;;;;;;;;x

aegon_vi;Blood of Aegon, the Golden Dragon;;;;;;;;;;;;;x

bran_the_builder;Blood of Bran the Builder;;;;;;;;;;;;;x

the_young_wolf;Blood of the Young Wolf;;;;;;;;;;;;;x

royce_redarm;Blood of Royce Redarm;;;;;;;;;;;;;x

belthasar_bolton;Blood of Belthasar Bolton;;;;;;;;;;;;;x

bran_the_breaker;Blood of Bran the Breaker;;;;;;;;;;;;;x

theon_the_hungry_wolf;Blood of the Hungry Wolf;;;;;;;;;;;;;x

cregan_stark;Blood of Cregan Stark;;;;;;;;;;;;;x

bael_the_bard;Blood of Bael the Bard;;;;;;;;;;;;;x

karlon_stark;Blood of Karlon Stark;;;;;;;;;;;;;x

last_hearth;Blood of Last Hearth;;;;;;;;;;;;;x

first_king;Blood of the First King;;;;;;;;;;;;;x

ryder;Ryder Blood;;;;;;;;;;;;;x

manderly;Blood of White Harbour;;;;;;;;;;;;;x

the_marsh_king;Blood of the Marsh King;;;;;;;;;;;;;x

bear_island;Blood of Bear Island;;;;;;;;;;;;;x

hammer_of_justice;Blood of the Hammer of Justice;;;;;;;;;;;;;x

bracken;Bracken Blood;;;;;;;;;;;;;x

blackwood;Blackwood Blood;;;;;;;;;;;;;x

walder_frey;Vile Blood of Walder Frey, the Guestkiller;;;;;;;;;;;;;x

edmyn_tully;Blood of Lord Edmyn Tully;;;;;;;;;;;;;x

kermit_tully;Blood of Lord Kermit Tully;;;;;;;;;;;;;x

mallister;Mallister Blood;;;;;;;;;;;;;x

black_aly;Blood of Black Aly;;;;;;;;;;;;;x

artos_arryn;Blood of the Falcon Knight;;;;;;;;;;;;;x

robar_royce;Blood of King Robar Royce;;;;;;;;;;;;;x

the_talon;Blood of the Talon;;;;;;;;;;;;;x

littlefinger;Blood of Littlefinger;;;;;;;;;;;;;x

jaime_corbray;Blood of Ser Jaime Corbray;;;;;;;;;;;;;x

gerold_grafton;Blood of Gerold Grafton;;;;;;;;;;;;;x

redfort;Redfort Blood;;;;;;;;;;;;;x

hunter_a;Hunter Blood;;;;;;;;;;;;;x

ursula_upcliff;Blood of the Bride of the Merling King;;;;;;;;;;;;;x

gulltown_arryns;Gulltown Arryn Blood;;;;;;;;;;;;;x

ruthermont;Ruthermont Blood;;;;;;;;;;;;;x

torgold_the_grim;Blood of Torgold the Grim;;;;;;;;;;;;;x

luceon_templeton;Blood of Ser Luceon of Ninestars;;;;;;;;;;;;;x

durran_godsgrief;Blood of Durran Godsgrief;;;;;;;;;;;;;x

orys_baratheon;Blood of Orys Baratheon;;;;;;;;;;;;;x

galladon_of_morne;Blood of Ser Galladon of Morne;;;;;;;;;;;;;x

swann;Swann Blood;;;;;;;;;;;;;x

lightning_lords;Blood of the Lightning Lords;;;;;;;;;;;;;x

lord_of_the_marches;Blood of the Lord of the Marches;;;;;;;;;;;;;x

renly_baratheon;Blood of King Renly Baratheon;;;;;;;;;;;;;x

grey_king;Blood of the Grey King;;;;;;;;;;;;;x

good_brother;Goodbrother Blood;;;;;;;;;;;;;x

harwyn_hardhand;Blood of Harwyn Hardhand;;;;;;;;;;;;;x

red_kraken;Blood of the Red Kraken;;;;;;;;;;;;;x

house_codd;Despised Codd Blood;;;;;;;;;;;;;x

lysandro_the_magnificent;Blood of Lysandro the Magnificent;;;;;;;;;;;;;x

saan;Saan Blood;;;;;;;;;;;;;x

hyrkoon_the_hero;Blood of Hyrkoon the Hero;;;;;;;;;;;;;x

grazdan_the_great;Blood of Grazdan the Great;;;;;;;;;;;;;x

huzhor_amai;Blood of Huzhor Amai;;;;;;;;;;;;;x

prince_garin;The Spirit of Prince Garin;;;;;;;;;;;;;x

hugor_of_the_hill;The Spirit of Hugor of the Hill;;;;;;;;;;;;;x

qarlon_the_great;The Spirit of Qarlon the Great;;;;;;;;;;;;;x

khiara;Blood of God-Empress Khiara the Great;;;;;;;;;;;;;x

black_pearl;Blood of the Black Pearl;;;;;;;;;;;;;x

veiled_lady;Blood of the Veiled Lady;;;;;;;;;;;;;x

merling_queen;Blood of the Merling Queen;;;;;;;;;;;;;x

moonshadow;Blood of the Moonshadow;;;;;;;;;;;;;x

daughter_of_dusk;Blood of the Daughter of Dusk;;;;;;;;;;;;;x

nightingale;Blood of the Nightingale;;;;;;;;;;;;;x

poetess;Blood of the Poetess;;;;;;;;;;;;;x

jon_snow;Blood of the Dragon of Winter;;;;;;;;;;;;;x

piper;Blood of Pinkmaiden;;;;;;;;;;;;;x

connington;Blood of the Griffin;;;;;;;;;;;;;x

red_viper;Blood of the Red Viper;;;;;;;;;;;;;x

tywin;Blood of Lord Tywin Lannister;;;;;;;;;;;;;x

bar_emmon;Blood of King Togarion the Terrible;;;;;;;;;;;;;x

massey;Blood of King Josua Milk-Eye;;;;;;;;;;;;;x

darry;Darry Blood;;;;;;;;;;;;;x

hornwood;Hornwood Blood;;;;;;;;;;;;;x

glover;Blood of Deepwood Motte;;;;;;;;;;;;;x

flint;Blood of the Kings of Breakstone Hill;;;;;;;;;;;;;x

horonno;Blood of Triarch Horonno;;;;;;;;;;;;;x

drahar;Blood of the Crabfeeder;;;;;;;;;;;;;x

pureborn;Enthroned Blood of the Pureborn;;;;;;;;;;;;;x

laughing_storm;Blood of the Laughing Storm;;;;;;;;;;;;;x

dawnbreaker;Blood of the Dawnbreaker;;;;;;;;;;;;;x

night_king;Vile Blood of the Night King;;;;;;;;;;;;;x




TO DO



Give the Swanns, Dondarrions, and Carons ancient founders and tweak their bloodlines a bit

Work out a way that Dany can pass on her bloodline if she is married to Aegon (since its not matrilineal she won't pass it on) - should be solved

Add a trait based system which gives certain bloodlines boosts and penalties with each other, ie its not a blood feud but if another house killed the founder of your house you probably might make a bitter comment at a feast etc, ie the Baratheons are probably seated rather far away from the Wyls or if you're the Boltons you really don't like the Starks.

Give Baratheons Durrandon bloodline

Do maintenance event to make Lannister lose Baratheon bloodlines if defeated

Make yiti dynasty bloodlines

Make versions for official submods

Adapt sky burials feature - Targaryens cremated, House Tully River Burials, House Stark Crypts, House Lannister Hall of Heroes(?)
Bloodlines I may Add

Aegon III Dragonbane bloodline reducing dragon taming/hatching bonuses
Blood of Rhaenyra if she wins
Blood of Baelor (not sure - the thing he gets the bloodline for basically makes it impossible for him to have kids lol)
Plumm Blood
Pate the Ploughman for the Morelands
Lothson Blood
Strong Blood
Black Swan Blood
Whent Blood